Run Fatboy Run
Marcus Morrison


11/03/2018 02:49PM

Its been a while since I last posted a blog so thought I had best get one out there what with it being long overdue! The ball hockey season is coming close to completion for 2018 and has produced some cracking games both in the Junior league and the adult league. Camilla Creek Crusaders retained the title in the Juniors league and were deserved winners as they yet again had an excellent season, losing only once to second placed Spring Point Spartans. Coach Stevie Bennett has done a wonderful job at getting his players to gel and play high octane hockey. The most improved team of the season was without doubt the Walker Creek Warriors who at times looked liked they could cause an upset in the league. This improvement is down to the hard work of Coaches Chris Biggs and Calllum Middleton and Team Manager Felicity Smith who have taken time out to work on extra training sessions with their players.
In the adult season the Spring Point Spartans dominated the FIC Cup and are currently 1 game away from winning the Morrison Xtreme League, but the Warriors may have something to say about this after beating the Hill Cove Hurricanes in their last game. Spartans only need a point to win the league. This Sunday looks to be a tasty game.
Its not all been plain sailing this season as we have had to reduce the adult teams to 4 teams in the Morrison League by merging the Port Howard Patriots and Goose Green Cavaliers due to players being out of the Islands. But we learn from each season and eventually we will get to a stage where everything clicks and we have fully rostered teams during the ball hockey season. After all our players do not get paid to play and they do this off their own back, we really do appreciate this as without them we wouldn't have any ball hockey leagues at all.
So next year there are some ideas in the pipeline to split up the junior league and introduce an intermediate league which we believe will make it more fun and fairer for all the younger players. We are currently working on the schedule for this and how it will work and by the looks of it will require the introduction of two new teams :). And the juniors will be over the moon next season as we will have goaltender kits for each goalie after purchasing these from suppliers overseas.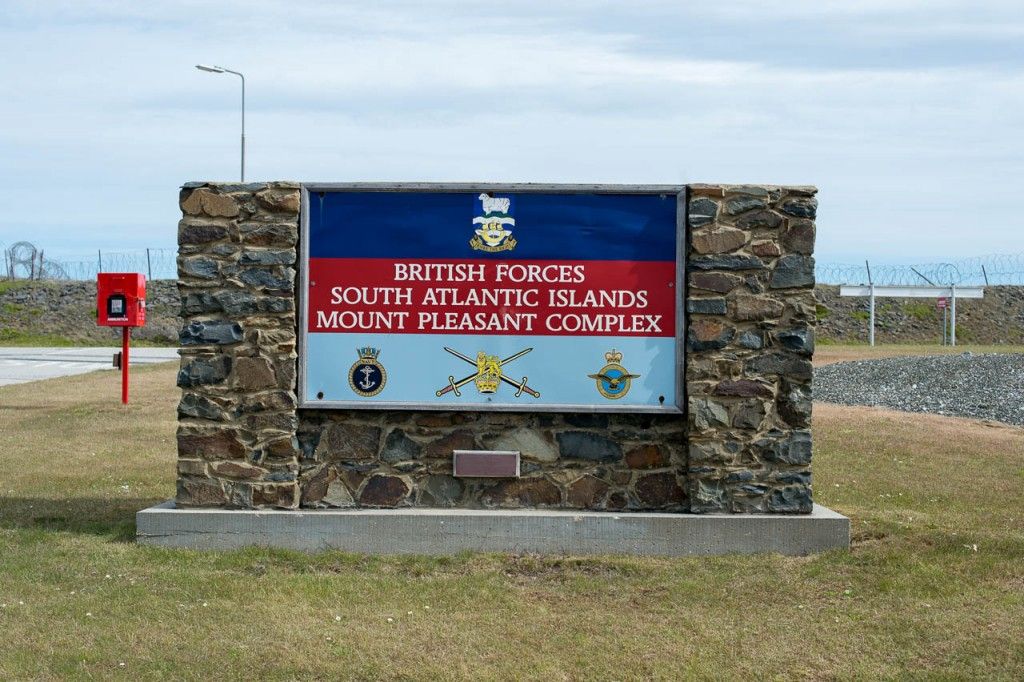 We are also working to establish links with the military which we hope will increase our ball hockey players and possibly open up the sport to the military base. There are plans to attend the sports day event being organised by FIOGA where Team Falklands will play against a military team. This will be a great opportunity for our players to play in the much larger sports arena at Mount Pleasant Airport which will give them a little more of the size we really need to be playing in. We want to really strengthen our link with the military and looking at other ways to help fund raise for military charities. You will notice we are linked with SAMA82 and FVF and are proud to be able to keep raising money for these two worthwhile causes.
Spending the day at the military open day helped to gain ideas and establish links with the various military sections. It was a fantastic day with children able to have a go at operating the various machinery on display. The cockpits of the planes was a high point for my two little ones and the amazing nose of Ninja the drug dog. For me the burgers were amazing as well as the chocolate cake being offered in the Oasis, my daughter however was not overly keen on me stealing it :)
I didn't feel guilty either for eating the burgers or cake after recently taking up running again. I decided it was time to make a change and after speaking with Richard Short a local Falkland Island runner who has run many overseas marathons it was time to lose some weight and get much healthier. Running was really helping to fight the mental health issues and I haven't looked back since. The target now is to run the 3 Peaks Challenge and the Standard Chartered Marathon and use this as an opportunity to raise funds for Falklands Xtreme Sports as well as the Falklands Veteran Foundation (FVF).
Running again has really increased my motivation to do other things in my life and to be more active with my two children. Its really helped me gain peace of mind and feel better about myself. I am going to be first one to state that I will not be winning any races any time soon and probably never will, that was never my aim anyway, but to be healthier and to beat mental health. Because of this new found motivation we are working on future running events to help raise funds so keep an eye out for these.
I can't stress enough the benefits of running and what it can not just do for your health but your general well being as well. I must add it wasn't just a matter of running and pounding out the kilometers but it also meant cutting out snacking and treats all the time and just sticking to 3 meals a day. With this new regime a stone was lost in 4 weeks! I started out as 18 stone and now I am down to 16.5 stone and its still going down bit by bit. It was a nice feeling to be able to go through the cupboard and able to fit into the clothes that were stuck away to the back of the cupboard never to see the light of day again.
Before I leave it was disappointing to find out that the new facility that is being created for a mixture of sports is only going to hold an arena for hockey at 35m x 20m which I believe is not much bigger than the current gymnasium set up we have in the Islands. To be able to take ball hockey forward in the Islands there is a huge need for a 60m x 30m arena which would really put us on the map. With the sheer amount of people playing inline and ball hockey it would be a sound investment to look at getting this arena built. For ball hockey it would put the Falkland Islands on the map and would enable the hosting of the proposed AAA South American Tournament which in turn would provide revenue for private businesses and the Islands as whole. Not only would revenue increase but tourism would increase and it would go a long way in raising the awareness of the Falkland Islands. Just imagine the Falkland Islands with a population of 3000 people hosting the ISBHF World Championships, now that would be something. Not only would it benefit ball hockey but it would greatly assist the hockey association and their need for an ice rink to help their players develop further. Plus wouldn't it be great to have an ice skating facility where families could go, relax and have fun. It could also help introduce things like figure skating and dare I say it other sports such as curling.
Yes this would be a big outlay in the first instance but would be a great opportunity to make revenue as tournaments are held and the facility is offered out to the general public. Maybe a private consortium would be interested in taking this on with the local Government? It would create more jobs in the community and increase the health of the nation. Not only could it be multi-functional for other sports but think what it could do for fares, markets, shearing competitions, government use and such things as shows. I just feel if we are going to do this we need to do it right, and worry that all we are going to get is a facility that is going to be cramped trying to meet everyone's needs. These are of course my opinions and I have no doubt that there will be other opinions out there from other sporting clubs and the general public and I wouldn't dare say many people probably do not see the point of spending government funds on such a massive project. I would say isn't it time for the Falkland Islands to give back to the community by providing such a facility that would benefit the whole community and would go a long way in raising the Falklands profile, so long as its done in the right way. I know for one the ISBHF are chomping at the bit for the Falkland Islands to have a full sized arena for ball hockey as they look to expand their member nations, this arena would do just that.